You put so much time, money + love into your business, yet dread doing anything with your website because you don't get how to use it.

And spending hours Googling things or watching YouTube videos that move too fast or — even worse — way too slow is a waste of your precious time.


WordPress doesn't have to cause you headaches every time you log in — I promise.


After working with WordPress for over a decade, I deserve a badge in scouring the internet for answers to my woes. I spent days (and nights, unfortunately) learning my way around the platform for myself first + then clients as I built tiny blue orange into the WordPress resource it is today.

Countless clients have emailed a question my way, gotten an answer they could easily understand + said "you just saved me hours of searching."

After hearing that same sentence a dozen times, I realized I ought to be sharing this info with more solopreneurs + bloggers. Which is why I am building learn to love WordPress, the resource you need to fall back in love with your website. All while sparing yourself hours of Google searching.


Stop wasting your precious time + spend a few minutes getting exactly what you need.

Learn to love WordPress isn't a course, it's a resource.

You'll be able to log into your hub whenever + wherever you need to understand something about WordPress. While you could move through each section like any online course, you can hop right to the area you need to get to the bottom of a problem you need to solve.

No waiting + watching the clock for a section to unlock. No quizzes keeping you from learning what you need. Once you sign up, you have access to it all. You'll see sections that match the left-hand menu of your WordPress website. Where are you having trouble? Click on that heading + access the text, video + images immediately.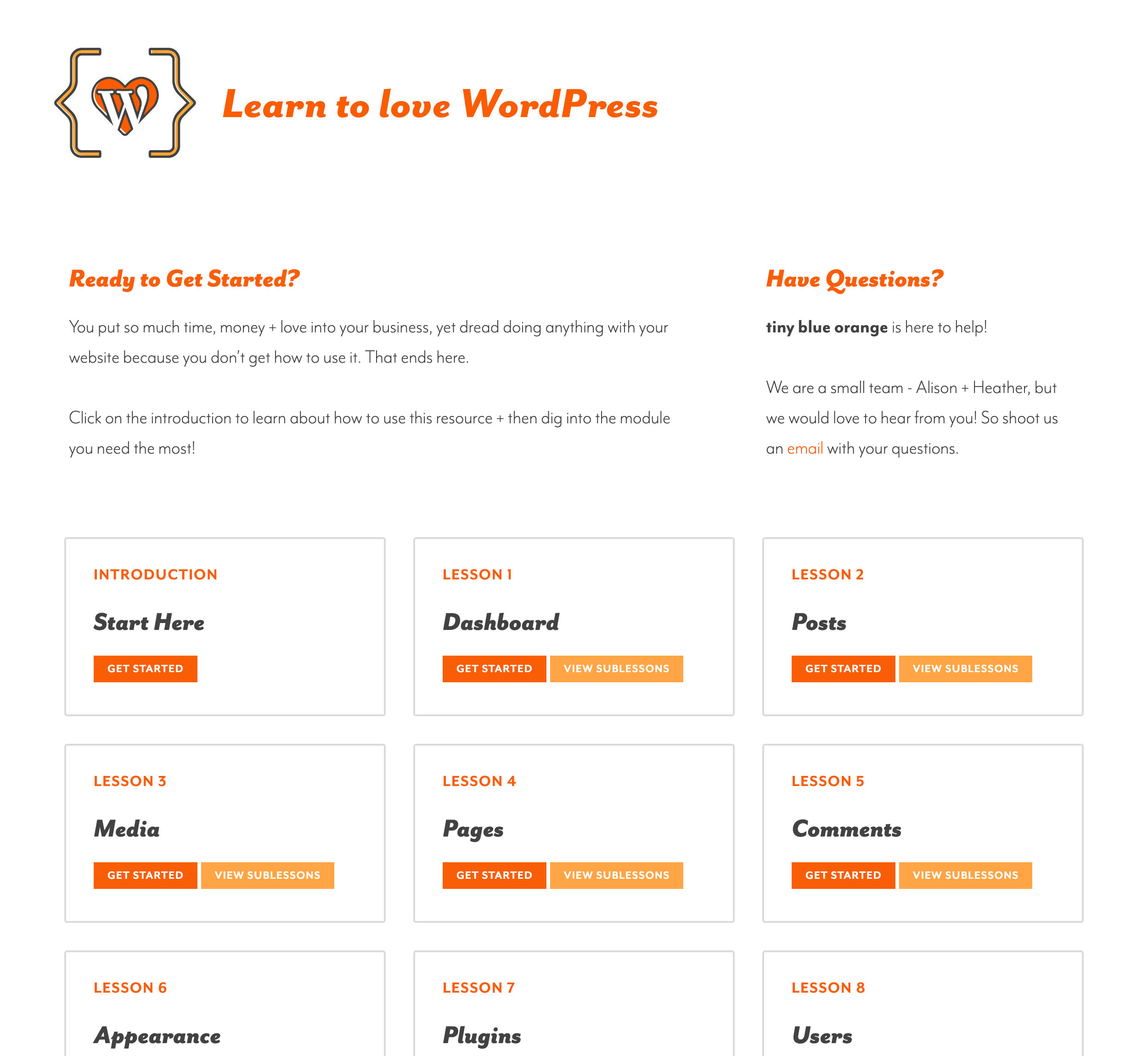 ​​​​​​​While your theme + plugins may add additional menu items to your site, you'll be able to crush core WordPress functions with this resource. And the best part is, once you're in, you're in. Buying access to learn to love WordPress grants you lifetime access to this resource. No matter how many more sections we add, you'll have paid for it once.​​​​​​​